I am often asked what is the best age for photographs and I always say THE FIRST YEAR is absolutely key.
Your baby changes soo much in that first year, and you as a family accomplish so many milestones that, without doubt, this is the year to document.
There are three sessions within the first year that I recommend everyone book.
1. Newborn
Newborn sessions are scheduled within the first 2 weeks after you welcome your little one. Babies grow and change so much and it's amazing to capture how tiny and new they are.
2. Sitter
7-10 months is my favourite age to photograph.  They're still all squishy with those adorable baby rolls, but you can really start to see their personalities shining through.  Plus you capture them just as they're sitting and in some cases starting to crawl. It is such an adorable age and a delightful photo session.
3. 1st Birthday
They change an incredible amount in that first year and accomplish so much. This is a fantastic way to mark and celebrate this huge milestone. We play with toys and act silly to get those delightful giggles. They get the cutest little cake to gobble (or play with) and we finish with fun in a miniature bath tub.
(Optional) Tummy Time
If you can stretch your budget a little further a tummy time session is another one you will not regret.
This session takes place when baby is 4-5 months old, when baby is lifting their head during time time but not yet sitting.
If there was ever a time to capture the cuteness of a baby as they discover their chubby smiles and feet, it is now.
I offer a limited amount of 'Grow with me' packages every year which captures these milestones. Contact me for further information.
Once you're out of that daunting first year an annual family photoshoot is a lovely thing to do and will mean that you have beautiful photos to treasure and look back on for years to come.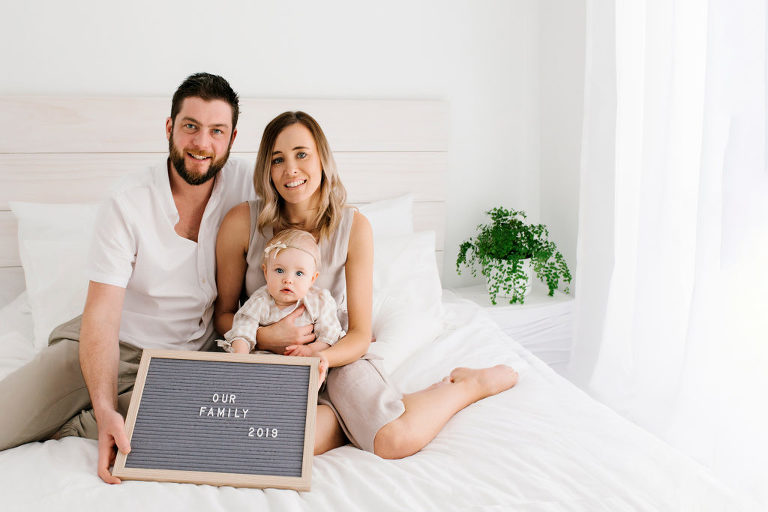 To summaries the best age for photographs is:
Newborn: under 14 days
Tummy time: 4-5 months
Sitter: 7-10 months
Cake smash: 10 – 12 months
---
To find our pricing for a session CLICK HERE
Keep up to date on special offers by following Those Little Moments Facebook page.
Those Little Moments Photography – Newborn, Baby, Cake smash and Family Photography | Hobart